76vs9
Select any filter and click on Go! to see results
إِنَّمَا نُطْعِمُكُمْ لِوَجْهِ اللَّهِ لَا نُرِيدُ مِنكُمْ جَزَاء وَلَا شُكُوراً
Innama nutAAimukum liwajhi Allahi la nureedu minkum jazaan wala shukooran
Yoruba Translation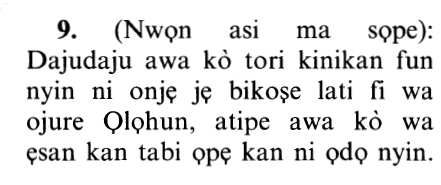 Hausa Translation
(Suna cħwa): &quotMunã ciyar da ku ne dõmin nħman yardar Allah kawai, bã mu nufin sãmun wani sakamako daga gare ku, kuma bã mu nufin gõdiya.
English Translation
Asbabu n-Nuzuul (Occasions of Revelation)
Tafseer (English)
إِنَّمَا نُطْعِمُكُمْ لِوَجْهِ اللَّهِ ...
We feed you seeking Allah's Face only.
meaning, hoping for the reward of Allah and His pleasure.
... لَا نُرِيدُ مِنكُمْ جَزَاء وَلَا شُكُورًا ﴿٩﴾
We wish for no reward, nor thanks from you.
meaning, `we do not seek any reward from you in return for it. We also are not seeking for you to thank us in front of the people.'
Mujahid and Sa`id bin Jubayr both said,
"By Allah! They do not say this with their tongues, but rather, Allah knows it in their hearts and He commends them for it. Every seeker should seek after this.''
Tafseer (Arabic)
" إنما نطعمكم لوجه الله " أي رجاء ثواب الله ورضاه " لا نريد منكم جزاء ولا شكورا" أي لا نطلب منكم مجازاة تكافئوننا بها ولا أن تشكرونا عند الناس قال مجاهد وسعيد بن جبير أما والله ما قالوه بألسنتهم ولكن علم الله به من قلوبهم فأثنى عليهم به ليرغب في ذلك راغب .
"إنما نطعمكم لوجه الله" لطلب ثوابه "لا نريد منكم جزاء ولا شكورا" شكرا فيه علة الإطعام وهل تكلموا بذلك أو علمه الله منهم فأثنى عليهم به, قولان
أي يقولون بألسنتهم للمسكين واليتيم والأسير " إنما نطعمكم " في الله جل ثناؤه فزعا من عذابه وطمعا في ثوابه .
I'raab - grammatical analysis of the Qur'an
«إِنَّما نُطْعِمُكُمْ» كافة ومكفوفة ومضارع ومفعوله والفاعل مستتر والجملة مقول قول مقدر و«لِوَجْهِ اللَّهِ» متعلقان بالفعل ولفظ الجلالة مضاف إليه و«لا» نافية و«نُرِيدُ» مضارع فاعله مستتر و«مِنْكُمْ» متعلقان بالفعل و«جَزاءً» مفعول به والجملة حال «وَلا» نافية و«شُكُوراً» معطوف على جزاء.